Talk by Ariel Caine & Hagit Keysar: Spatial Testimonies, Spatial Photography: Aerial imagery and photogrammetry in spaces of conflict and colonisation | 20 October 2022 | 17:30- 19:30 | Leiden [Register to join]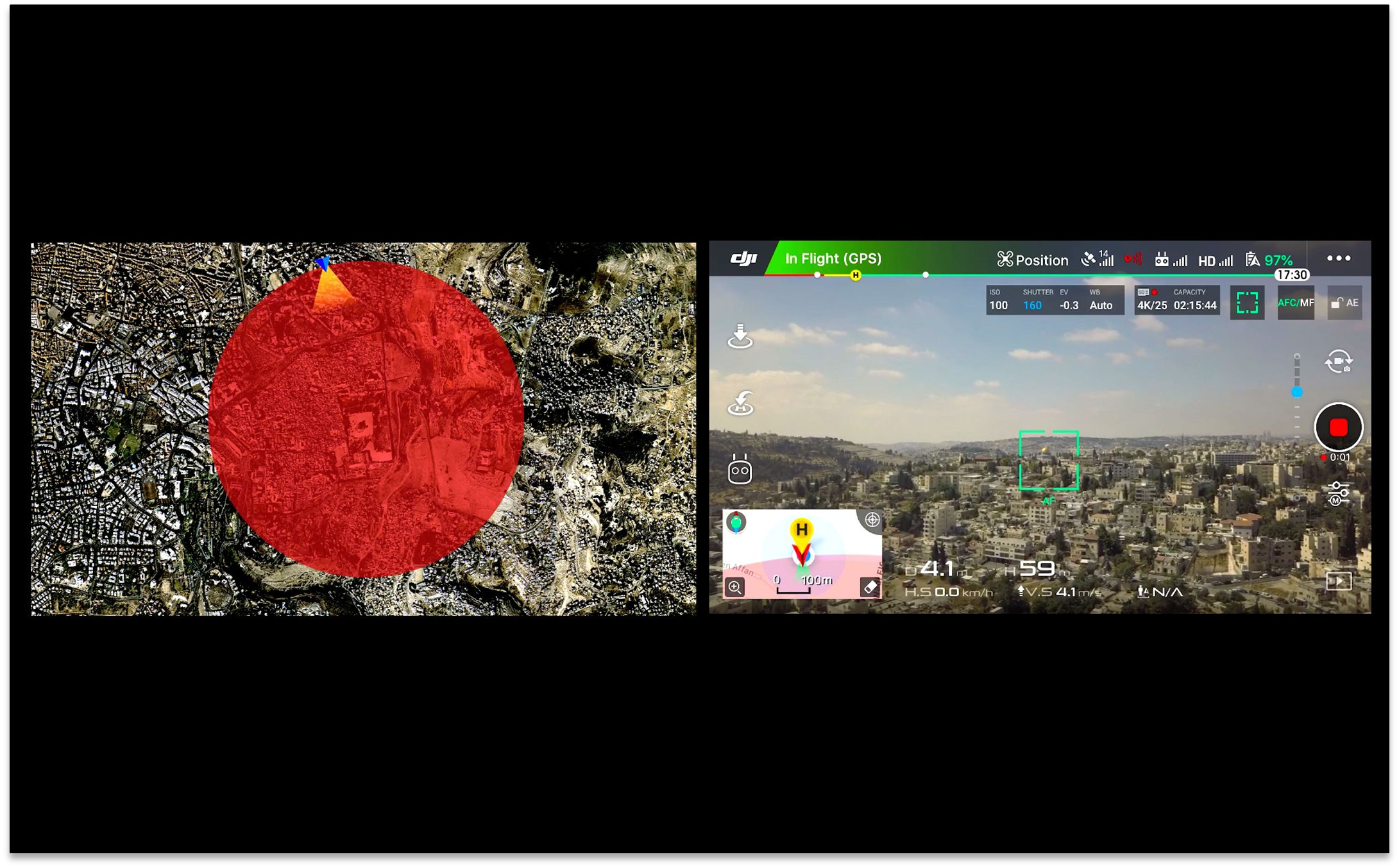 Jerusalem is a city famous for its walls. The walls of the old city, the infamous separation wall. Yet less known is an invisible wall that encapsulates the old city and its surroundings. Centred on the Haram al-Sharif and spanning approximately 3km in diameter. This is what is known as a "Geofence", a cylindrical digital barrier extending from the ground and up into the skies, set to prevent drone flights into or take-offs within the area. The volume of this technologically restricted zone follows the geographic coordinates of an already present regulatory No-Fly Zone (NFZ), enforced by the Israeli security apparatus for more than two decades.
In the eyes of the Israeli state, the corporate geofence is a sort of panacea. It attempts to give a definitive, albeit partial, solution to the question of sovereignty in this territory. Its technical invisibility and 'remote neutrality', allows it to sink below consciousness. However, as a navigational technology it has real-world effects. It reconstructs space in a machine-readable format. Territory altered by machines for machines. Terra ex machina.
In this talk we look into the volatile space of Jerusalem through the prism of the geofence. To begin with, we investigate this new invisible technology of aerial and terrestrial control and continue by contrasting it with tactical forms of resistance, balloon/kite photography, that subvert its technological, epistemological, and ontological standing.
How can we make visible an invisible barrier and its effects? How can we materialise and conceptualise this NFZ and its connected infrustructures?
Biography
Ariel Caine is a Jerusalem-born artist and researcher. His practice centres on the intersection of spatial (three-dimensional) photography, modelling and survey technologies, and their operation within the production of cultural memories and national narratives. Ariel is currently a Postdoctoral fellow at the ICI Berlin, undertaking his project "Architectures of the Sensed: Models as Augmented Sites for Resistance". He received his PhD from the Centre for Research Architecture, Goldsmiths University of London where from 2016–21 he was a project coordinator and researcher at the Forensic Architecture Agency. In 2021–22 he received a postdoctoral research grant from Gerda Henkel Stiftung as part of the speculative cameras and post-visual security projects at Tampere University (Finland).
Hagit Keysar is a researcher and activist, working and teaching in the fields of science and technology studies, critical data studies and digital urbanism. Her research and creative work concern the politics of data and digitization and the political potentials of community-driven science and technology for articulating rights in situations of conflict and colonisation. She has recently been a research fellow at the Weizenbaum institute for the Internet society, Berlin (2019), a postdoc fellow of the Minerva Stiftung (2019-2021) in Berlin's Natural History Museum and she is currently a postdoc at the Minerva center for Human Rights at the Tel Aviv University.
When and Where
20 October 2022, from 17:30 to 19:30
LIPSIUS building | Room 003
Cleveringaplaats 1, 2311 BD Leiden
Image: Restricted Zone – Temple Mount. Hagit Keysar and Barak Brinker. Animation: Moshe Zilbernagel